Xtremoplex Serum Powerful Health Tonic
Out of stock
$218.95
*A proprietary blend of all natural proteins, enzymes, amino acids, minerals and peptides which may assist in achieving INDISPENSIBLE AMINO ACID(IAA) REQUIREMENTS ESSENTIAL FOR METABOLISM, TISSUE PROTEIN SYNTHESIS AND A RANGE OF OTHER BODILY FUNCTIONS.
*These statements have not been evaluated by the FDA. This product is not intended to diagnose, treat, cure or prevent any disease.
Out of stock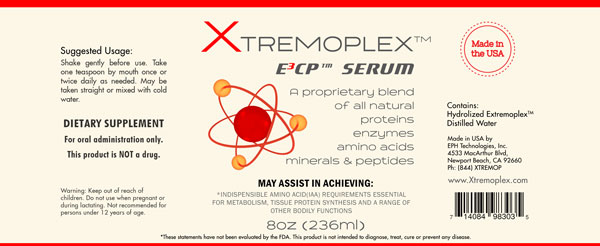 Shake gently before use. Take one teaspoon by mouth once or twice daily as needed. May be taken straight or mixed with cold water.
XtremoplexTM
XtremoplexTM
Distilled Water